Cartooning for Learning Video and Workbook Package Digital Download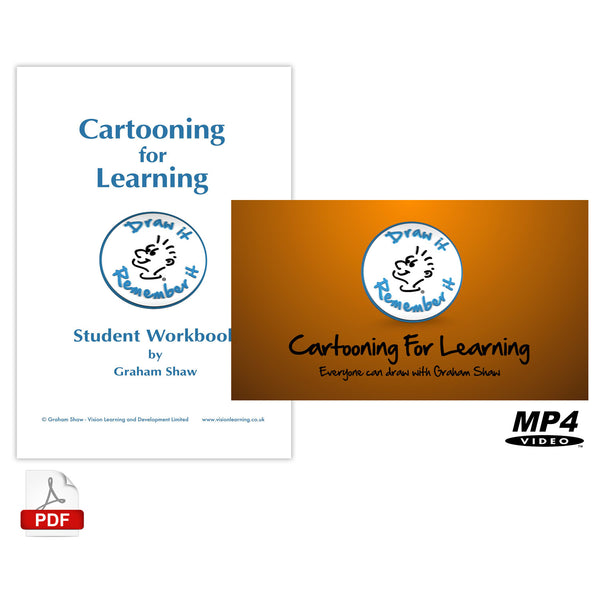 Cartooning for Learning Video and Workbook Package Digital Download
How to draw simple symbols and pictures to remember information
No drawing experience required – be prepared to amaze yourself!
How to 'Draw it and remember it! Boost your learning power.
90 minute instructional video easy-to-follow learning sessions with Graham. All you need is paper and pen.
55 page 'Cartooning for Learning Workbook'.
Learn how to draw simple pictures to remember information!
Learn practical cartooning skills you can apply immediately to boost your learning ability. Just follow Graham's easy steps.
Ideal for students and children or anyone who wants to enhance their study skills and make learning easier and more enjoyable.
No drawing experience required – if you don't believe you can draw then be prepared to amaze yourself.
Why buy 'Cartooning for Learning'? Have you ever...
Wished you could draw?
Found it hard to remember pages of notes?
Wanted to improve your memory when studying?
Then this Video is perfect for you – and ideal for anyone who would love to be able to just Draw it and Remember It!
Just follow Graham's easy steps and you will be able to:
Draw fabulous cartoons and meaningful symbols
Turn information into memorable pictures
Create exciting pictures to remember facts, diagrams and even whole topics
What's in the Programme?
This is a complete course that takes you right from how to draw through to using your drawing skills to help you remember information and communicate ideas.
It is structured in stages that you can easily follow to build your skills:
Creating Characters – Faces From the Side
Creating Characters – Faces From the Front
People in Action
From Shapes to Pictures
From Pictures to Meaning
Thinking in Pictures
Learning Facts
Remembering Diagrams
Making Topics Memorable
How Will You Learn?
All you need is paper and pen and an open mind. The great thing is you can learn at your own pace. You can pause and replay Graham's demonstrations as many times as you like. You easily can dip in and out of sections so you are in complete control. By repeating exercises you will be able to really polish your skills.
The 'Cartooning for Learning' Workbook is a great resource in its own right. However, as a supplement to the Video the activities and examples will enable you to reinforce and extend the skills learnt on the video.
What Will You Achieve?
By the end of the Video you will have developed creative skills you may never have known you had. You will be able to use your drawing skills in all kinds of ways. Whether you are studying for examinations, learning for fun or explaining ideas you will have creative skills you can use again and again to boost your learning power.
Schools Package available

A Licence to print unlimited copies of the entire workbook or individual worksheets for your pupils or students is available. Contact us for more information.